The PADI Advanced Open Water Course is your chance to develop your dive skills and experiment with new types of diving – it's exciting, and there are a lot of excellent dives to choose from. Imagine drift diving over pristine coral reefs, diving at night or even discovering a World War II shipwreck! It's all possible, and Bali is one of the only places on earth that gives you access to such a broad diversity of sites you can really experience the types of diving that you want to. This is one of the reasons why so many professional divers choose to work in Bali – so you get the best instructors too!
When we take you for a drift dive, we'll take you to Nusa Penida where you won't just read about currents, and you'll experience the sensation of drift diving first hand. When we say wreck diving, we'll take you to a World War II shipwreck, and Fish Identification? Did we mention that we have over 400 species of reef fish? 
Here are some of the incredible dive sites you could be exploring as part of your PADI Advanced Open Water Course in Bali…
Known as Bali's Emerald Isle, Nusa Penida's sloping coral reefs are teeming with life and bursting with colour. The corals and fish here are thriving due to the ocean currents that flow around the island, bringing plankton and nutrient-rich water to the reef – and making Nusa Penida the number one spot in Bali for drift diving! Nusa Penida slopes extend below 40 meters which also makes it a good location for the Deep Diving, and the multitude of reef fish, manta rays and passing pelagics make Fish ID another popular option. Other dives that are great to take in Nusa Penida include Computer and Multilevel Diving, Underwater Naturalist, Peak Performance Buoyancy and Underwater Photography / Videography.
If you want to try wreck diving, then Tulamben should be on your bucket list of dive sites! The USAT Liberty shipwreck sank just off the beach and is easily accessible from the shore. The ship is broken down in parts, allowing you to swim through the ribs of the cargo hold, explore doorways, hunt for the anchor and identify the canon! The wreck is also home to a plethora of nocturnal marine species which make night diving here a real highlight. Tulamben's volcanic black sand sites and underwater temple statues are a lot of fun to explore while working on your Fish Identification skills, Peak Performance Buoyancy or Underwater Photography. Other dives that we have found work well in Tulamben are Deep Diving at the Drop Off, Underwater Navigation, and Search and Recovery.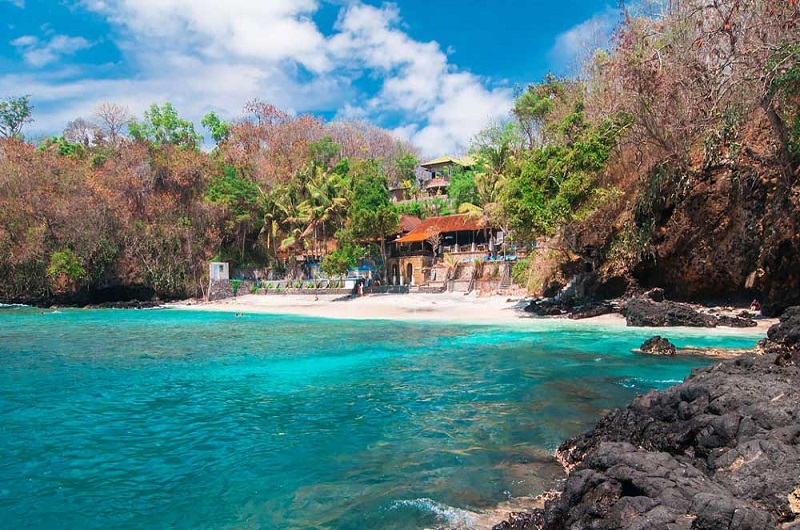 If you are hoping to take home stunning underwater photographs or video, then Padang Bai is a great place to start! Colourful reefs, passing sharks and turtles all make Padang Bai an absolute dream to capture on camera. Padang Bai's bountiful reefs are also ideal for Fish ID Dives, Peak Performance Buoyancy and gentle Drift Dives.
This is another region of Bali which is a must for macro underwater photographers. You'll find Amed's black sand sites are packed with critters and unusual marine life from frogfish and stingrays through to harlequin shrimps and nudibranch. If you want to try shooting wide-angle, Amed is also home to the "Japanese Wreck", a shallow, coral-encrusted steel wreck which attracts clouds of reef fish. Amed's comfortable conditions also make it an ideal spot for Peak Performance Buoyancy, Underwater Navigation, Search and Recovery and Fish ID.
Not Just a Standard Advanced Open Water Course
At Crystal Divers we don't only offer PADI's standard adventure dives, we are one of the only dive centres on Bali that also offer you the chance to include some of the more specialist options that aren't so widely available such as Sidemount Diving, Diver Propulsion Vehicles (scooters)*, Full Face Mask Diving, Shark Awareness and Dive Against Debris into your Advanced Course!
How Much Studying Is Involved?
If you've just taken your PADI Open Water Course, the amount of studying you needed to do is probably still fresh in your mind. When you take your Open Water Course you are learning to dive from the beginning so, yes, there's a lot to learn. When you take your PADI Advanced Open Water Course in Bali, you are merely developing your existing skills and learning to apply them in different ways. So the amount of studying is much less! There is a book, and you will need to read five chapters – one for each of the dives but the real learning for the Advanced Course comes through doing. This is a practical program and the majority of time is spent diving! 
Which Dives Can I Choose?
How Long Does the Advanced Open Water Course in Bali Take?
We aim to complete your course in two days. Depending on your choice of options, this may increase to 3 days.
With so many options to choose from you might think the downside will be in the cost but taking your Advanced Open Water Course in Bali doesn't cost any more than joining us for two days of diving! So why wouldn't you get additional certification and develop your skills at the same time?
Our PADI Advanced Open Water Course is IDR 4,500,000, and this includes:
Full Equipment
PADI Certification Card
Diving Insurance
Pick up and Drop off from Local Area
Lunch, snacks and soft drinks
Are you ready to take the plunge and become a PADI Advanced Open Water Diver in Bali? For more information or to make reservation fill in our online contact form or send us an email to info@crystal-divers.com and we'll get right back to you.
 We look forward to scuba diving Bali with you soon!
*Diver propulsion vehicles must be reserved in advance and are subject to availability